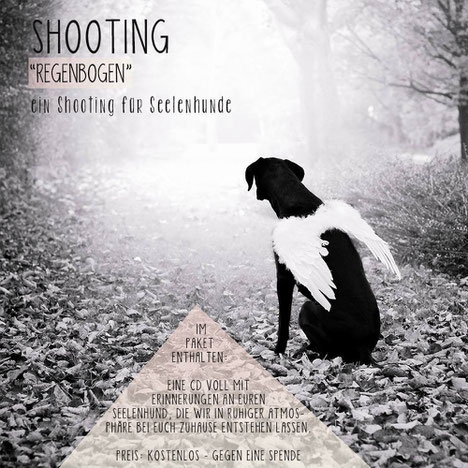 There comes a moment when you realize that there you don't have much time left with your beloved pet. You look into its eyes and know that you will soon have to make the hardest of all decisions as the ultimate proof of love for your pet. It does not matter if this is due to sickness or old age, because it will always be too early. Moments together will have to be treasured from now on even more than usual and the time that is left has to be lived to the fullest.
I cannot take away the grief and pain, but I can try to make it a little easier for you by bestowing you with beautiful pictures of you and your pet. These will be taken during a free of charge rainbow photo shooting that takes place either while walking your dog on its favorite round, on a paddock, or at your home, depending on the fitness of your pet. Please click here for more information.
Es kommt dieser Moment, wo man erkennt, dass einem nicht mehr viel Zeit mit seinem geliebten Tier bleibt. Man schaut ihm in die Augen und weiß, dass man diese schwerste aller Entscheidungen bald treffen muss, um dem Tier damit den letzten Liebesdienst zu erweisen. Ob das nun durch Krankheit oder durch Alter bedingt ist, spielt dabei keine Rolle. Es zerreißt einem das Herz. Denn es ist irgendwie immer zu früh. Gemeinsame Momente muss man ab dann, noch mehr als sonst, wie kostbare Schätze sammeln, und die verbleibende Zeit sollte ganz bewusst gelebt werden.
Den Schmerz und die Trauer kann ich euch leider nicht nehmen, aber ich kann versuchen, es euch ein zumindest ein wenig leichter zu machen, indem ich euch schöne Bilder von und mit euren Seelentieren schenke. Diese werden im Rahmen eines kostenlosen Regenbogen-Fotoshootings entstehen. Dabei werde ich Aufnahmen von euch und eurem Tier in alltäglicher Umgebung machen. Das kann dann zum Beispiel beim Gassigehen auf eurer Lieblingsrunde, auf der Koppel oder auch bei euch zuhause sein, je nachdem, wie es eurem Tier geht. Klickt bitte hier für mehr Informationen.